Babylon Tower Builders is a tactical game in 3D by Channing Jones und and now available at Spiel direkt eG.
+++ for all types of players +++ video +++ spare part service +++ FAQ, blog and fan rules online +++ information on background and development +++
Babylon Tower Builders is an abstract, 3D strategy game. Players take turns building a common structure. The object for each player is to position their nobles to score the most points at game's end, with players scoring based on having a majority of nobles per level.
The game includes a real-time play variant.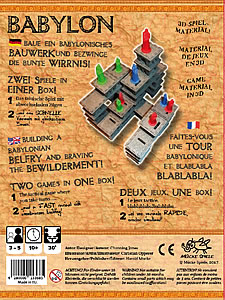 number of players: 3 to 5
duration: 30 minutes
ages: 10+
We are offering Babylon Tower Builders in the first week of sale at an introductory price:
wholesale price: 9,99 EUR (until May 11th, 2017)
instead of wholesale price: 11,80 EUR (after May 11th, 2017)